Register for these programs: by phone (507-664-3700), in person at FiftyNorth, or by clicking on the title of the class
Please pre-register and check-in for all classes no matter your membership levels. It is also important to check-in at the front desk when you arrive for your class.  We use attendance data for grant applications, insurance reimbursement, space planning and determining whether or not to cancel a class.
Scholarships are available to help defray the cost of classes for those who find the cost a financial hardship
Mondays, January 6, 13, 20, 27, February 3, 10, 17, 24
10:30-12:00pm
Do you feel called to write? Come gather and connect around the writing process. Whether you're a first-time writer seeking direction or an experienced writer who longs for community, you're welcome here. Let's cultivate stories and nurture the muses. More than ever, that matters.
Why? Because stories can bring people together.
The gift of shared wisdom helps us understand each other. More than that, our stories helps us understand ourselves.
In this collaborative workshop, we'll keep it simple. We'll locate and unpack the writing that feel truest.
Each session will consist of three parts:
1) idea-generating writing prompts,
2) cross-pollination to unpack ideas, and
3) facilitated peer review to reflect on shared work in a supportive space (around 500 words or fewer).
If this speaks to you, join us.
Note: This is a continuation of a previous class. New members and former participants are encouraged to sign up as topics will evolve in creative response from one week to the next.
Instructor:  Amy Hallberg
Capacity:  15
Cost:  $115 nonmbr, $90 mbr, $0 plat-equiv
NOTE: Amy Hallberg, Courageous Wordsmith, taught high school German (later Spanish) for twenty years before turning to storytelling in her native English. She is a graduate of Carleton College and the Loft Literary Center's Foreword Apprenticeship in Creative Nonfiction, is a Martha Beck Master Certified Life Coach, and holds certificates in Editing and German to English Translation from the University of Chicago. Amy's true-life novel, German Awakening: Tales from an American Life, features Northfield, and she's delighted to teach here. Amy hosts the podcast Frau Amy's World: Conversation with Real-Life Creatives.
Thursdays, January 9, 16, 23, 30
1:00-3:00pm
This will be a four-week workshop during which we will explore different techniques to create exciting winter landscapes. You will be encouraged to select several images of winter landscapes from magazines, photos or the internet. I will also have some images that you may use but it is important that you have a "connection' to the images you want to use. The techniques that we will explore are 1.) wet on wet watercolor, 2.) torn paper collage 3.) Underpainting (acrylic), and 4.) mixed media.  You may use the same image in more than one of your paintings, but you should try to complete 3-4 different landscapes in four weeks.
Instructor: Kate Douglas
Capacity:  10
Cost:   $80 nonmbr, $65 mbr,  $5 plat equiv
NOTES: Materials list available at the front desk
Materials to bring
Email if you have any questions
General materials-bring every week
scissors, rulers, glue, papers, paint (acrylic paint provided) spray bottles, ink and pens some permanent, some not. 
Materials to bring Week one: 
watercolor paper, 120 lb or more
watercolor sets or tubes-whatever you have 
brushes, sponge and/or paper towels.
India Ink-
I will provide colored inks
Permanent black pens
Spray bottles (useful for many art experiences! Check the Dollar Store. 
Images can be from National Geographic or Travel Magazines. Cut them out and then make an image on a copy machine. Enlarge if necessary. Make sure you can see the image clearly. 
**You may want to work on canvas board or prepared canvases for weeks two, three and four, if so, you will need to bring your own canvases. 
Materials Week two:
Papers including brown paper (shipping), wrapping paper, news paper, tissue paper, magazine pages etc. Glue, (Elmers is fine) The paper selection can be from magazines, gift wrap, maps, grocery bags. etc
Materials Week three:
Underpainting involves beginning with a dominant color in your landscape image and adding layers of colors on top of that key color. This works best with acrylic paint. Acrylic paint will be available for your use. 
Materials Week four:
Mixed media winter landscape. You can explore the technique that you enjoyed most, add one more, combine two. This is a totally free choice that you can use to create an exciting expressive landscape!
Monday, January 13
10:00-11:00am
Have you ever been curious about fused glass?  Would you like to try your hand at making a piece of fused glass?  Here is your chance to make a great suncatcher  for your window.
Instructor:  Gerie Thelen
Capacity:  10
Cost:  $35 nonmbr, $32mbr, $25 plat-equiv
Wednesday, January 15, 2020
5:30-7:30pm
Gabriele Münter (Berlin, 19 February 1877 – 19 May 1962) was a German expressionist painter who was at the forefront of the Munich avant-garde in the early 20th century.[1] She studied and lived with the painter Wassily Kandinsky and was a founding member of the expressionist group Der Blaue Reiter.
Early on, Münter developed a great interest in landscapes. Münter's landscape paintings employ a radical Jugendstil (youth style) simplicity and suggestive symbolism with softly muted colors, collapsed pictorial space and flattened forms.[6] She enjoyed exploring the world of children; using colorful prints of children and toys, Münter shows precision and simplicity of form in her rejection of symbolic content.
Join us for this exciting painting experience. You will enjoy becoming familiar with a great artist by creating a very small version of one of her paintings. You will do this while drinking provided wine in a fun and relaxing atmosphere.
Just bring yourself!
Instructor: Kate Douglas
Capacity:  10
Cost:  $36 nonmbr, $31 mbr, $13 plat equiv
Monday, January 20
10:00-12:00pm
Learn to create your own Silk Scarves using Shibori techniques. This Japanese technique is similar to tye-dyes, but can create much more complex designs and creations. Each participant will learn the basics of getting started on dying with Acid Dyes and will get to create their own dyed silk and wool scarfs.
Instructor: Erica Trebelhorn
Capacity: 10
Cost:   $45nonmbr, $40 mbr, $25 plat-equiv
Monday, January 27
10:00-2:00pm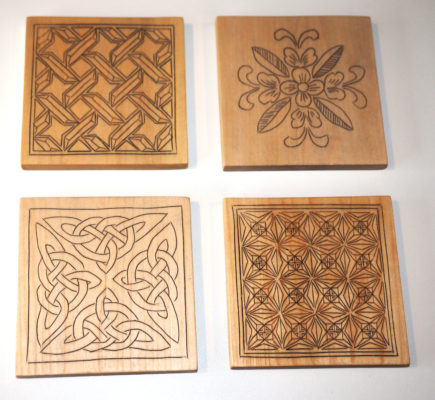 Kolrosing is an old Scandinavian tradition dating back to Viking times and was most often used to decorate objects such as spoons, small bowls or boxes, cups, etc.  A specially designed knife is used to cut fine lines into wood.  Traditionally, coal was rubbed into these incised lines to enhance the design, not finely ground coffee is used instead. Students will become familiar with the kolrosing knife and workin with and against the grain. A practice coaster will be made first.  Then students can decide on the design for their final pieces.  All tools, patterns and designs are provided for this class.  Please bring magnification if needed for this close hand work.
Instructor: Kim Bakken -Parr
Capacity:  10
Cost:   $55 nonmbr, $50 mbr, $20 plat-equiv
Monday, Tuesday, February 10 & 11
9:00-12:00pm
This workshop will introduce students to Brush Lettering. This currently popular style of writing is easy to learn and could just get you hooked on the wonderful art of calligraphy. This workshop will provide step-by-step demonstration and individualized instruction to help each student produce beautiful letterforms. Proper care of tools, good practice habits, spacing and layout, resources, and other calligraphic possibilities will be presented and explored and by the end of the workshop students will be able to complete a final project of a small piece or a greeting card and envelope. No experience necessary
Instructor Sally Wightkin
Capacity:  10
Cost:    $65 nonmbr, $55 mbr, $10 plat equiv
NOTES: Sally Wightkin is a calligrapher with over 30 years of calligraphy and teaching experience. Sally creates art and teaches other calligraphy workshops in her studio located in the Northrup King Building in Northeast Minneapolis.
Saturday, February 22
9:00-1:00pm
Create a felted pod for feathered friends who are returning in the spring. These eco Friendly houses provide a warm water resistant and windproof space for birds to build their nests and protect them from those early spring storms. Participants will get to create one small felted birdhouse pod that will be ready to take home and hang. Participants will need to be able work the wool by hand a bit more to create a 3-d form, but modifications will be shared during the class. All materials are provided but participants should bring two bath towels and a bag to carry your creation home.
Instructor: Erica Trebelhorn
Capacity:  10
Cost: $ 55 nonmbr, $ 45mbr, $15 plat-equiv