Register for these programs: by phone (507-664-3700), in person at FiftyNorth, or by clicking on the title of the class
Please pre-register and check-in for all classes no matter your membership levels. It is also important to check-in at the front desk when you arrive for your class.  We use attendance data for grant applications, insurance reimbursement, space planning and determining whether or not to cancel a class.
Scholarships are available to help defray the cost of classes for those who find the cost a financial hardship
Wednesday, October 23
5:30pm to 7:30pm
In this wine and canvas workshop, we will create a miniature painting that represents the work of Hilma af Klint. *Evolucio Furmint is a white wine
Klint was born in Stockholm, Sweden in 1862. She was considered a non-objective painter who had an interest in spiritualism and  theosophy. Her work expresses these interests plus large dynamic abstractions. These and a  series called 'The Temple Paintings'  demonstrate her knowledge of the aesthetic of modern art. She attended the Royal  Academy of Art in Stockholm and was part of  a group of women artists called 'The Five'.   None of these women were acknowledged or recognized until the 1980's. The  Guggenheim in New York is showing her work  in an exhibition entitled 'Paintings for the Future'.
Instructor:  Kate Douglas
Capacity:  10
Cost:  $36 nonmbr, $31 mbr, $13 plat-equiv
Thursdays, November 7, 14, 21, December 5
1:00-3:30pm
Words, letters and numbers will be the design element used to create exciting collages in this four session class. You will be encouraged to develop your designs using a wide variety of materials. You may make up to 4 designs in 4 weeks. Start collecting things from your closets, kitchen, basement and garages! Make a trip to ACE and Used-a-bit. Stop by the Sketchy Artist for papers and/or pens and pencils. Don't forget Goodwill or Savers!
Instructor:  Kate Douglas
Capacity:  10
Cost:  $95 nonmbr, $75mbr
Required Materials to bring:
Paper or sketchbook for planning
Pencils
Pens (black and color)
Very sturdy cardboard
Canvas boards
Wooden boards
Metal
All of above any size you choose, can vary from design to design
Old books
Magazines
stencils
Fabric
Ribbon, ric-rac, string, jute
Natural elements (get b4 winter!)
Wax paper
Tools to fit your materials (i.e. wire cutters, knives, chain saws)
scissors, rulers, compasses
Clamps and clips (I have some)
Optional Suggestions or ideas: 
License plates, door numbers, clothing, items of significance, records, thumb tacks or push-pins, leather, greeting cards, playing cards, wrapping paper, old jewelry, mementos, i.e. tickets to a play, train, ship, concert etc.
Friday, November 15, 12:30 – 3:30pm
Saturday, November 16, 9:00am-12:00pm
Learn the basic strokes of rosemaling using them to create two lovely keepsake ornaments.
Instructor: Lyn Rein
Capacity:  8
Cost:  $80 nonmbr, $65 mbr, $25 plat-equiv
Monday, January 27
10:00-2:00pm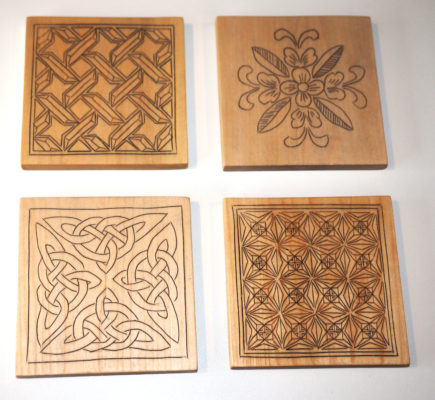 Kolrosing is an old Scandinavian tradition dating back to Viking times and was most often used to decorate objects such as spoons, small bowls or boxes, cups, etc.  A specially designed knife is used to cut fine lines into wood.  Traditionally, coal was rubbed into these incised lines to enhance the design, not finely ground coffee is used instead. Students will become familiar with the kolrosing knife and workin with and against the grain. A practice coaster will be made first.  Then students can decide on the design for their final pieces.  All tools, patterns and designs are provided for this class.  Please bring magnification if needed for this close hand work.
Instructor: Kim Bakken -Parr
Capacity:  10
Cost:   $55 nonmbr, $50 mbr, $20 plat-equiv