Register for these programs: by phone (507-664-3700), in person at FiftyNorth, or by clicking on the title of the class
Please pre-register and check-in for all classes no matter your membership levels. It is also important to check-in at the front desk when you arrive for your class.  We use attendance data for grant applications, insurance reimbursement, space planning and determining whether or not to cancel a class.
Scholarships are available to help defray the cost of classes for those who find the cost a financial hardship
Wednesdays, February 13, 20, 27
6:00pm to 7:30pm
In this class we will weave together two beautiful art techniques to create an image that captures the feeling of the poetry we will be exploring. We will combine a printmaking technique called linocut, carving into a soft linoleum surface. This image will then be printed and transferred onto a painted wood surface. We will explore watercolor painting with the wood surface, revealing the beauty of the natural textures. This will become our background for our printed images! Come join us for this poetry, printmaking, and painting adventure!!
Instructor:  Angie Ekern
Capacity:  10
Cost:  $61 nonmbr, $52 mbr, $20 plat-equiv
NOTES:  Materials included in the class fee
Mondays, February 18 & 25
5:00pm to 6:30pm
Create your own piece of wall art using needle and wet felting in this two day class. All participants will create a roughly eight by ten inch piece of art. These can easily be pinned to a wall, framed, hung, or sewn onto a bag. In our first session we will learn how to lay out wool to create dramatic skies and ground and then make them into a solid fabric using wet felting techniques. Then in the second session we will add details to our artworks using needle felting and beads.
All participants should bring a photo or drawing to work from and a bath towel for the first night. All other materials are provided.
Instructor:  Erica Ness
Capacity:  10
Cost:  $57 nonmbr, $51 mbr, $30 plat-equiv includes materials
Thursday, Friday, February 28, March 1
1:00pm to 4:00pm

Suminagashi (soo me nah gah' she) is a 12th Century art technique used by Japanese artisans to create natural and beautiful papers for book pages and covers. This technique ultimately spread as a significant art form in a variety of European/Asian countries. In addition to book arts, Suminagashi has been a popular method of creating silk scarves. Paper marbling is also a modern derivative of this process. Japanese artists have always honored nature and the elements in all aspects of their existence; this incredible technique demonstrates how water becomes the core, the tool and the inspiration for this process. You will use watercolor or ink  to create images inspired by the We Are Water poems.
Session one: Suminagashi ink printing using the original technique plus creating an illustration.
Session two : Making bound poetry journals using the Suminagashi papers and prints.
Instructor:  Kate Douglas
Capacity:  10
Cost:  $88 nonmbr, $74 mbr, $25 plat-equiv
NOTES:
The art created in this workshop will be on display with its respective poetry in the FiftyNorth Gallery  June 17 – July 26 as part of the We Are Water-Northfield  event.
Materials Session One: Making the Prints
If anyone has a wooden or plastic drying rack for laundry, please bring it-it will not get stained.
Try to bring items that will aid in coaxing the ink in the water. These can include animal or human hairs, feathers, tiny twigs needles, thread and anything super fine to drag on the water.
Pencils
Watercolor sets
Your art fee will cover ink, all paper, trays, bowls and pads
Materials Session Two: Making the Poetry Journals
Bring any of the following tools that you already have:
Permanent pens, pencils, cutting tools like Xacto blades & sharp scissors, metal rulers-6" or 12".
Instructor will purchase some cutting tools and some rulers (we will work in pairs)
Your art fee will cover all other needed materials.
The art fee will allow us to use traditional Japanese papers & traditional inks plus awls, waxed thread, needles, folding bones, cover chipboards, PVA glue, etc.
Thursday, Friday, March 7 & 8
1:00pm to 3:30pm
Cartooning is one of the most exciting and fun ways to express yourself through art.  Cartooning combines funny or satirical story-telling with drawing.
So how does one acquire cartooning skills?  It starts with an idea, thought or spark about an event, political comment, or personal opinion.  A simplistic drawing with a character to express this event, comment or opinion is the essence of a cartoon.  Cartoon strips tell mini stories.
In this workshop we will practice creating our own characters using some very basic lines and shapes.  We will brainstorm ideas or you can come with one in mind.
Instructor:  Kate Douglas
Capacity:  10
Cost:  $ 41 nonmbr, $32 mbr, $0 plat-equiv
NOTES:  Materials to bring:  2-3 pencils, 2-4 pens, an unlined sketchbook (any size), a ruler, an eraser and a color tool of choice (colored pencils will be available)
Tuesday, Wednesday, Thursday, March 12, 13, 14
10:00am to 12:00pm
Water sustains life, and in its various forms (cloud, rain, snow, river) is an essential part of the beauty of the world around us. In this workshop, participants will write poems based on artworks inspired by water.  With permission from the writer, the poems and art will be on display in the FiftyNorth Gallery as part of the community wide "We Are Water" Northfield event in the summer of 2019.
This workshop is made possible by the voters of Minnesota through a grant from the Southeastern Minnesota Arts Council thanks to a legislative appropriation from the arts & cultural heritage fund.
Instructor:  Rob Hardy
Capacity:  10
Cost:  $54 nonmbr, $42 mbr, $0 plat-equiv
Monday, March 25
1:00pm to 4:00pm
Felting wool is one of the oldest methods for creating fabric in the world. It is a fast process that uses cleaned and carded wool to create almost anything. In this class we will make a seamless felted purse that fits your unique personality. Students will learn about basics of laying out fibers, rolling and attaching a handle, using a resist (so there is no seaming) and adding silk fibers to create a unique and decorative surface. Each participant will create a small purse, about 8-10 square inches in size with a felted strap.
Students need to bring 1-2 old bath towels to use in the process.
While no experience in felting is necessary, it is encouraged.
Instructor:  Erica Ness
Capacity:  10
Cost:  $ 70 nonmbr, $65 mbr, $40 plat-equiv
NOTES:  Fee includes all materials
Wednesday, March 27
5:30pm to 7:30pm
Georgia O'Keeffe is a well known American painter who spent part of her life in New York before moving to New Mexico. Her early works included expressionistic NY city-scapes but she was known more for her works done in the desert. These included paintings of skulls & bones plus exotic floral paintings.
This is the 7th FiftyNorth offering of the Mini-Master Series; and a fun and relaxing art experience. You do not need to be a dedicated artist to enjoy this combination of learning about artists and doing a miniature painting. Instruction included with wine. Come and join us!!
Instructor:  Kate Douglas
Capacity:  10
Cost:  $36 nonmbr, $31 mbr, $13 plat-equiv
Monday, April 8
5:00pm to 7:00pm
Create your own one of a kind flower brooch to help your spring mood. Felting is a fast method of creating fabric from sheep wool. We will learn how to create our own felted flower brooch using colorful wools and beads.  Participants will create several small layers of wool and a leaf to create their flower and will learn how to finish it with various beads.
While no experience in felting is necessary, it is encouraged.
Students need to bring an old bath towel to use in the process.
Instructor:  Erica Ness
Capacity:  10
Cost:  $35 nonmbr, $30 mbr, $15 plat-equiv (includes materials)
Monday, April 15
10:00am to 11:00am
Try your hand at fused glass.  Make a beautiful flower sun catcher for your window.  Happy Spring!
Instructor:  Gerie Thelan
Capacity:  10
Cost:  $ 40nonmbr, $35 mbr, $25 plat-equiv
Tuesdays, April 16, 23, 30, May 7, 14, 21
4:00pm to 5:00pm
Have you always wanted to learn to play the ukulele? Then this is the class for you! We will begin by covering basic playing techniques, including tuning, chording, and strumming. Then, we will quickly move on to playing well-known folk, popular, and rock songs. Most people do not realize what lovely music this beautiful Hawaiian instrument is capable of creating. Bring your own ukulele and prepare to wow and amaze your friends!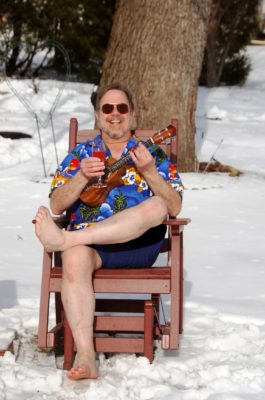 Contact Katie 664-3708 if you need a ukulele
(6 sessions)
Instructor:  Randall Ferguson
Capacity:  8
Cost:  $60 nonmbr, $45 mbr, $10 plat-equiv
Tuesdays, April 16, 23, 30, May 7, 14, 21
5:15pm to 6:15pm
If you play ukulele a little and would like to go on to the next level, (accomplished beginner/intermediate), this is the perfect class for you! In this low stress class, you will add to your basic ukulele techniques, playing in different keys with strumming and finger picking patterns, as well as playing uke solos with the melody and chords together, (you will be surprised at how simple this can be). The goal is to give you a boost to increase your playing level and lay down a foundation for you to take off and keep learning on your own. By the time this class is finished, you will have become an accomplished ukulele rock star, (at least in your own mind)! Requirements: A little previous experience playing, (not much), and supply your own ukulele.
Contact Katie 664-3708 if you need a ukulele
(6 sessions)
Instructor:  Randall Ferguson
Capacity:  8
Cost:  $60 nonmbr, $45 mbr, $10 plat-equiv