Softball
Thursdays, 1pm at the Dundas Dome
During the warm weather months, the Softball group practices every 

Thursday

 starting at 

9 am

 in Sechlar Park on the field near the pavilion. Games will be held on Tuesdays (Schedule will be out in May). During the winter months the Softball team is meeting at the Dundas Dome on Thursdays at 

1 pm.

 New players are always welcome! For more information, contact Harley Tate 507-251-9958 or harleyjtate@yahoo.com
2019 Softball Team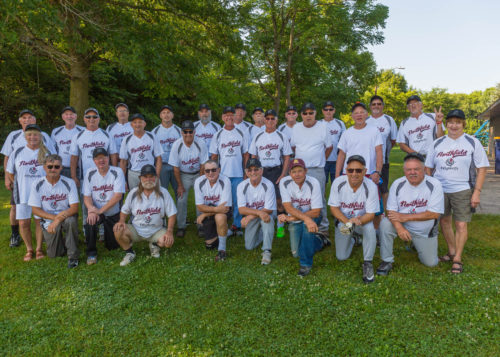 Northfield Pedalers
Starting in the spring, there are regular 

Monday

 rides around Northfield and to other bike paths in the region.  During the winter months, this group gathers 

on Monday

 mornings in a local coffee shop, and then if weather permits, walk together. For more information contact Mary Auge, 612-483-5122, or bmauge@charter.net.
Ping Pong

Five days each week, with groups of players ranging from beginning to advanced skill levels.  All scheduled times for Ping Pong are Open to all skill levels.  If you are interested in trying Table Tennis, please don't be shy and join in on open Table Tennis at FiftyNorth or contact Fitness Coordinator Craig Swenson.
All Levels
Mondays, 7:30 – 9 pm
Wednesdays, 3 – 4:45 pm & 6 – 7:45 pm
Saturdays, 10 am – 3 pm
Doubles
Tuesdays, 1:15 – 3:15 pm
Thursdays, 1:15 – 3:15 pm
Singles
Tuesdays, 3:15 – 4:15 pm
Thursdays, 3:15 – 4:15 pm
Hiking Group
Hikes are planned to occur every two weeks from late spring into early autumn.  All are welcome.
Hikers: Meet at FiftyNorth 10 min. before the scheduled hike- bring water, wear sunscreen, snack, good supporting shoes and have insect repellent along.
On hikes scheduled at some distance from Northfield we plan an option of lunch before returning.
Most hikes are 1-1 ½ hours
FiftyNorth Bowling Club
Fridays, 1:30 pm
Join in the fun of non-competitive bowling at the Jesse James Lanes in Northfield. Every Friday at 1:30 pm. This is NOT a league; whoever comes can bowl.
Cost is $3.25 per game with an extra charge if you rent shoes.
Water Volleyball
Thursdays, 7 – 7:45 pm
Features non-competitive fun in our pool.