"The Strange Sisters" and "Solly and Da Goils" Radio Dramedies Performance
Saturday, March 9  
RESCHEDULED TO Sunday, March 17, 2:00pm
7:00pm
Sunday, March 10
2:00pm
Friday, March 15
7:00pm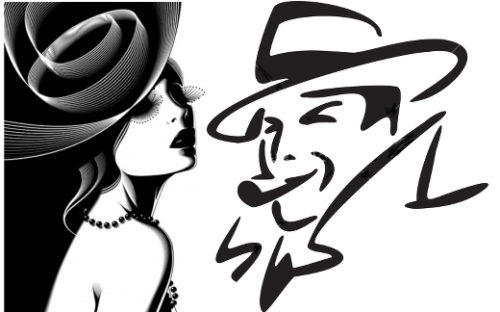 Leading off will be "The Strange Sisters", an actual Whistler radio play first aired on radio in 1946. If you listened to radio-theater in years past, you likely heard the Whistler. Do you remember? The eerie 'whistle' will bring to mind the dramatic series, no doubt.  Patsy Dew, who brought the genre of radio "dramedy" to FiftyNorth in 2012, will direct this suspenseful drama, full of sibling rivalry, villainous plotting and a surprise ending.
The second radio-play, "Solly and Da Goils", is written and directed by Paul Kluge.  It is a rollicking satire of 20th Century New York gang warfare where the women talk like a slithery—why don't you come up and see me sometime–Mae West, and the men like rough and tough gangsters from da Bronx. Competing gangs are the Creeps and the Crumbs, reminding us of the Jets and the Sharks, or maybe the Crips and the Bloods. But nobody gets hurt—permanently at least, and we dare you not to smile and chuckle all the way to the surprise ending.
Cast: Holly Fischer, Peggy Sheldon, Dee Rogers, Jim Haas, Steve Jorstad, Dick Waters, Marie Gery.
Sound Effects by Dale Sheldon
Music by Dave Miller
Costumes by Helen Dillon
Tickets available for purchase at the FiftyNorth front desk.
Cost:  $12 adults, $6 children 12 and under
Sunday, March 31
2:00pm to 3:00pm
Songwriter, singer, multi-instrumentalist and bandleader, Wendy Smith composes music for theater, film, daily life, and her band, The Zillionaires.   She writes in many styles, a little jazz, country, rock and roll, and a lot of variety.  At FiftyNorth, Wendy will play and sing, and also take a bit of time to talk about her songs and songwriting process.
Free will donations appreciated
Sunday, April 28
2:00pm
Title:  Shakespeare Immortal: Words to Live By
Director: Sylvia Langworthy
Cost:  $10 – Tickets available at the front desk
Friday, May 3
7:00pm
Spring Concert featuring the FiftyNorth Band and the Seasoned Singers
Free will donations are appreciated