2022 CAPITAL PROJECTS LEVY
Northfield Public Schools ISD No. 659
Wednesday, October 12
4:30-5:30pm
 The Northfield School District is asking voters to renew the existing capital projects levy and to increase it on the Nov. 8 general election ballot. The current capital projects levy expires in fiscal year 2024. Renewing the existing capital projects levy allows the district to keep instructional materials up-to-date, funds regular maintenance of our buildings and grounds, and provides funds to pay for the salary and benefits of eligible technology services staff members. This reallocation of salaries and benefits from the general fund to the capital projects levy is needed to reduce the amount of future budget reductions. There will be two questions on the ballot. The first will extend the levy authority for 10 years at the existing tax rate (3.534%) and the second question will ask for an increase of 1.169% for 10 years. If both questions pass, the district will generate approximately $1.65 million per year compared to the $750,000 received per year under the previously approved levy. The tax impact on a $350,000 home will be an additional $81 per year or an additional $6.75 per month if both questions pass. It is important to note that the district has been under-levying the existing capital projects levy. The existing authority (at a tax rate of 3.534%) increases as the district's tax base grows. The district currently could be levying for up to $1.24 million but has only levied taxes to reach the $750,000 amount promised to the taxpayers when the levy was passed in 2011. Superintendent of Schools Dr. Matt Hillmann will present information about the capital projects levy request and take questions about it at FiftyNorth on Oct. 12 from 4:30 p.m. to 6:00 p.m. You can also learn more by visiting the district website at https://northfieldschools.org/cpl.
Capacity: 75
Cost: Free
Space: Room 103/105

Friday, October 14
6:30-8:00pm
BOOK LAUNCH CELEBRATION
Rick's Adventures in Paris
by Eric Nelson with illustrations by Riki Kölbl Nelson.
6:30 – Lobby. Meet the Author, Book Sales, Live music by Greg Smith
Book available for purchase; price $20 (tax included)
7:15pm – Room 103. Introduction by Jonathan Hill, a retired colleague from St. Olaf College, and longtime friend of the author. Brief reading of passages from the book and comments by the illustrator.
Rick's Adventures in Paris:
This entertaining coming of age story, to which the author's son Benno and granddaughter Else Bird made important contributions, opens with these excerpts:
"I am a genius. You probably think I'm not really a genius, but I'm not and I am. A lot of people secretly hope to turn out to be a genius but they have too small a notion of what a genius is…
"You can be a genius at anything. It's not what you do but how you do it. I'm a genius at making peanut butter sandwiches. That's right, I'm that genius…
"What I'm going to do here is tell the whole story: the behind-the-scenes stuff at Rick's Café, my rock club in Paris; the political controversy that erupted when my sandwiches appeared on the menu of a three-star restaurant; my fifteen minutes of fame on French television and the riot that followed. It's the classic story of love and politics. And it all started with a peanut butter sandwich.
Free Event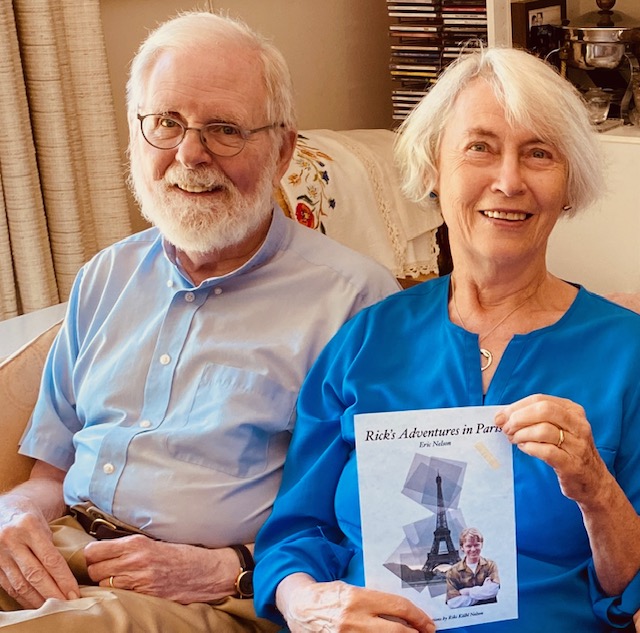 Sunday, November 13
2:00-3:00pm
Presenters: Richard Collman and David Miller
Information about the Performers
The Collman-Miller Piano Duo was formed in 2011.  Richard and David have performed at the Northfield Retirement Center, Becketwood Manor in Minneapolis, the Grand Rapids MN summer arts series, Staples-Motley arts series, and at house music salons.
Richard F. Collman began piano study with his mother.  He has degrees from UMD, Yale Divinity School (M. Div.) Univ. of Notre Dame (MM Music & Liturgy). Combining a career in ministry & music, he retired in Northfield in 2006.  He remains active in arts promotion, piano, organ (part-time at St. Peter's Lutheran) and also plays Celtic harp for Northfield Hospital Hospice program.  In 2007, he founded the Northfield Noontime Organ Recitals.
David K. Miller has a degree in music education from MSU-Moorhead with study at the Academy of Music in Vienna.  He taught music for over 30 years near Eugene OR. In Northfield since 2008, he performs as a piano soloist, accompanist, and arranger in music like "Jesse" and melodramas at FiftyNorth.  David also accompanies I Cantanti Chamber.
Capacity: 75
Cost: Free
Space: Room 103/105
Free-will donations to cover piano maintenance appreciated